---
Spring steelheading is probably Southeast Alaska's best kept secret. But word is getting out--over 300 of our watersheds are documented to host annual runs of steelhead, and state fisheries biologists insist that this number is extremely conservative......it could be triple that!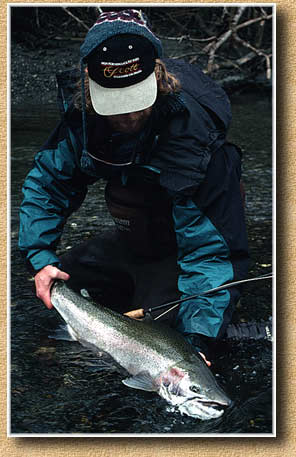 Spring Steelhead Expedition
On this expedition, we will fish watersheds in the Petersburg and northern Prince of Wales Island regions. We will sail the mother ship into fjords, then launch inflatable skiffs to run up the mouths of the small coastal streams that flow clear virtually all spring. Anglers can expect to sight fish for many of their steelies, chrome bright acrobats in the 12-16 lb. class.
Exploratory Steelhead Expedition
Each year we like to offer anglers the unique opportunity to join us as we search for "new" unfished steelhead systems in Southeast Alaska. Allow us to to emphasize the exploratory nature of these trips--this is true pioneering, a first look at some of North America's last unspoiled wild steelhead streams. On these expeditions, anglers will fish along with their Flywater hosts. Like our other expeditions, these are based on a mother ship and space is limited.
---
[ Home | Welcome | Southeast Alaska | Programs | Accommodations ]
[ Guided Fly-Outs | Angler's Retreat ]
[ Expeditions | Salmon Expeditions ]