---
Dear Fellow Flyfisher:
At Flywater Adventures, we have a simple goal: to provide our guests with the finest fly fishing experience and instruction in Southeast Alaska. We are proud to host programs at one of Southeast Alaska's finest lodges, the Glacier Bay Country Inn outside of Gustavus, the Gateway to Glacier Bay. The Country Inn, as it is often called, is comfortably elegant, wonderfully managed, and often visited by bald eagles, moose, wolves and bear. We offer programs and expeditions throughout Southeast Alaska and into Glacier Bay National Park, catering exclusively to fly fishers of all skill levels and interests. We are also one of the only fly fishing companies in the state to expand our programs to those requiring handicapped access.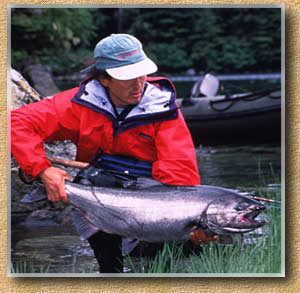 Our instructors are more than excellent fly fishers and experienced guides: they have a contagious passion for the sport, and for the places where the best of it can be found. Whether you want private instruction on casting dynamics or techniques for fighting big fish.....fly-out trips to secluded streams for salmon, steelhead, trout or char....or a mother ship expedition geared to explore some of North America's pristine coastal wonders....Flywater Adventures has a program to suit you. We can even custom tailor trips specific to the interests of you and your party.
Give us a call. Let the Southeast Alaska fly fishing experts book a trip to enjoy and remember.
Cordially yours,
Rich Culver
Owner, Flywater Adventures
Flywater Adventures operates under permit on the Tongass National Forest, U.S.D.A. Forest Service
---
[ Home | Southeast Alaska | Programs | Accommodations ]